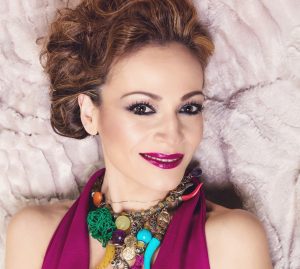 -The Canary Island diva returns to her home turf to sing the role of Liù in Turandot which will mark the end of the Ópera de Las Palmas season.
May 2018
Davinia Rodríguez's international career continues without stopping. Highlights of this season include her performance in the Macerata Festival as Liù in Turandot, her debut as Marguerite in Faust in the cities of Modena, Reggio Emilia and Piacenza (Italy), her recent triumph in the title role of Massenet's Thaïs at the National Centre for the Performing Arts in China, her first Verdi Requiem at the Palau de la Música Catalana in Barcelona and her debut at the Royal Opera House Muscat (Sultanate of Oman) as Nedda in Pagliacci. Now the Spanish soprano is finally returning to the island of her birth, Grand Canary, this time to take a role which she is especially fond of, and with which she won the hearts of opera-goers in Bilbao some seasons ago: that of Liù in Turandot. "This is a character I adore", explains the singer, "and which has always given me great satisfaction; she has a vocal register that I feel very comfortable with and I could feel her under my skin from the first time I sang the role at ABAO-OLBE in Bilbao. Singing in Las Palmas is obviously really exciting for me; it is marvellous to be able to sing for my home town", Davinia Rodríguez concludes. The Turandot which can be seen in Las Palmas is a Les Soirées Lyriques de Sanxay Festival Production conducted by the Spanish conductor José Miguel Pérez-Sierra. Performances will take place on the 12th, 14th and 16th June at the Teatro Pérez Galdós in Las Palmas.
Upcoming engagements will take Davinia Rodríguez to the Verdi Festival at the Teatro Regio in Parma to sing the complicated role of Lady Macbeth in Verdi's Macbeth once again, a role which brought Rodríguez great success in Vienna in November 2016.